Filming in Palau is alive and well during this Covid 19 Pandemic. As of April 2021 the Republic of Palau is currently Covid free.
Palau continues to provide great opportunities for Underwater, Aerial and other forms of media production.
Here are a few filming techniques we have been developing. And projects we've undertaken over the last few years.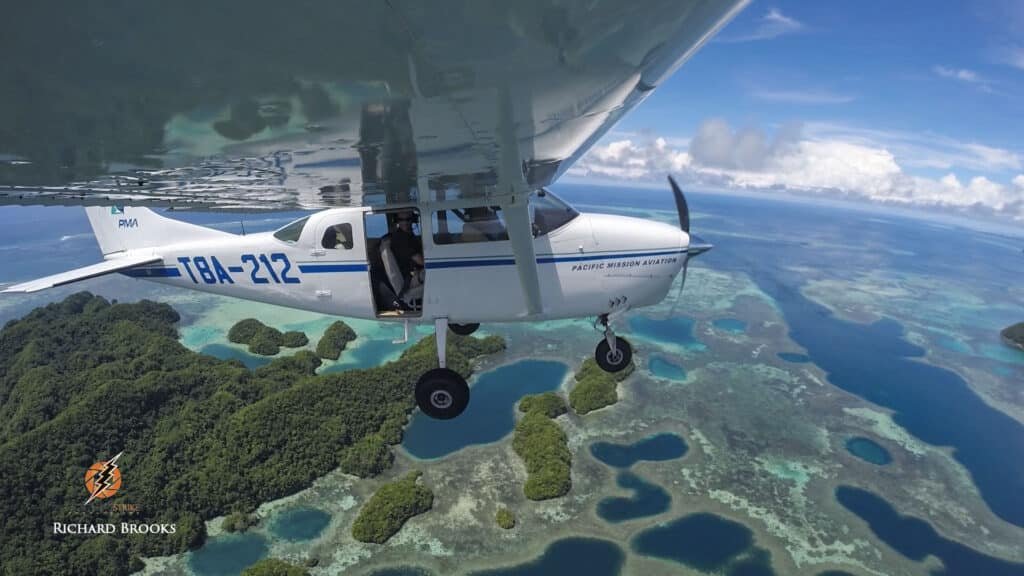 New media techniques and projects in Palau
Over the last 5 years we have continued to diversify our filming techniques.
8K filming
With the addition of new camera assets we have now moved into the 8K UHD realm.  Combining this with the latest in Gimbals means we now have the very best in stabilised UHD media production potential. 8K is still not viable for broadcast. However it yields absolutely superb 4K footage.
Aerial filming in Palau
Aerial filming with Aircraft mounted action cams have provided great footage for our clients. The use of GoPros and certified external mounts enabled us to acquire never before filmed scenes in Palau.
We used a host of external and internal mounted action cams. Each aimed to catch the Surveillance plane as it hunted for illegal fishing in Palau's EEZ.
Underwater Time-lapse for Cinematic Documentary
Of particular note is the underwater time-lapse work we shot for the Netflix underwater movie Chasing Corals. This involved returning to the same locations 6 times over a few months. Each time positioning the camera with the aid of multiple references in exactly the same place as before. It resulted in a number of 6K+ resolution time-lapse sequences. These showed the transformation of coral reef communities over the course of several months.
360 VR filming in Palau
We have embraced 360 VR and continue to develop this new and exciting form of media. Mosaic panoramas provide a new and artistic form. In addition they produce very high resolution images for printing. The beginning of 2017 saw us filming for a VR project here in Palau. This ran in conjunction with a second project by the Economist magazine.
We have also expanded into producing 360 VR for Google Street View and Google maps. This capitalises on the relative lack of media here for businesses and landmarks.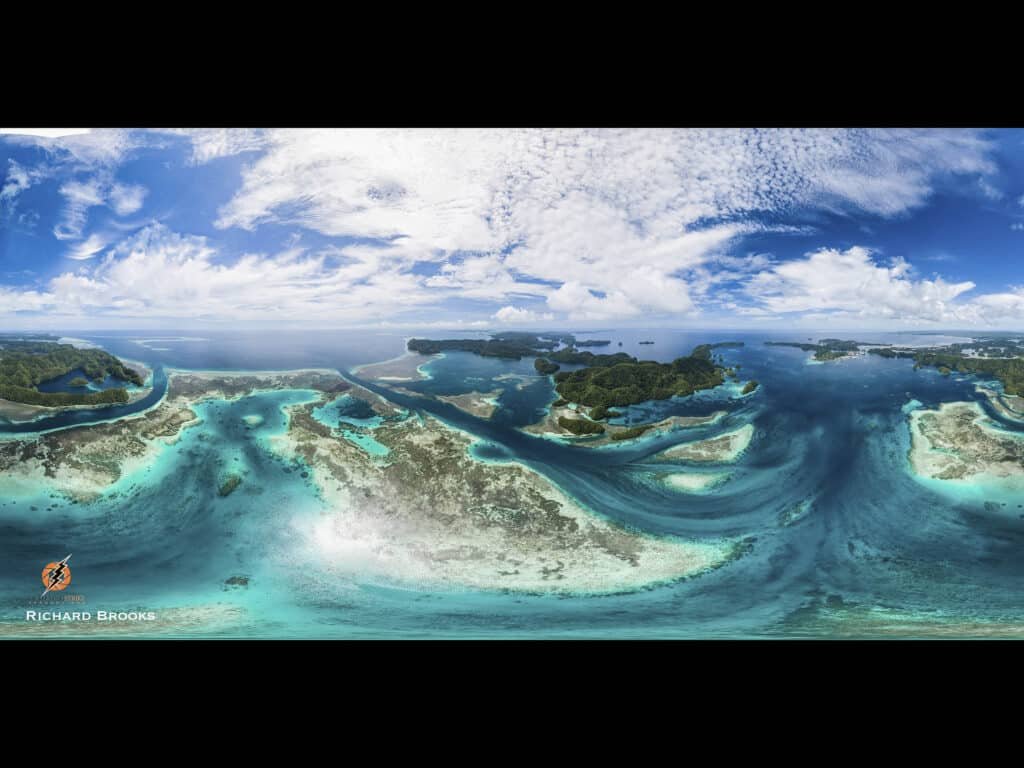 Underwater filming and diving
in Palau
We love to go diving at all the great sites like Blue Corner and German Channel. Macro diving is also still great. There are many secret places that we can find incredible creatures. Underwater filming in Palau is still world class. New behaviors and environments were documented in greater detail this past year. Spawning aggregations of species never before filmed in Palau. We gained further insights into the migrations of Manta Rays and Shark species.
Our underwater cameras can output 4K+ Raw 12 bit footage. This means we get the very best colors possible through post production techniques. We use a combination of Davinci Resolve Studio and the Adobe Creative Cloud suite of programs. Read more on underwater filming here.
Over the last 18 months I have also taken my Rebreather course on the AP Inspiration. I now combine this with filming for the best possible bubble free and optimised decompression experience. As a result it enables me to go beyond what was possible before with scuba.
Read more here about Rebreather underwater filming.
Wildlife and conservation in Palau
Wildlife and conservation topics are still very close to our hearts. A large project on migratory shorebirds was completed in the Autumn of 2018. This milestone project commissioned by Palau Conservation Society raised local awareness. It showed the need to protect certain coastal environments in Palau. The film reached its desired audience and the proposed developments have been halted. Using local knowledge of bird aggregations was vital to getting close up shots of rare migratory species.
Drone technology for wildlife observation
Another vital project was to document Palau's rare Dugong population. It was under threat from a Sand Dredging project. Thanks to drone technology and the hard work from a local NGO the project was stopped.
Plastic Pollution has become an incredibly damaging aspect of our world in this century. This film was our first venture into raising awareness of this issue. Plastic use continues to be one of the biggest problems facing us today and into the future.  We take every opportunity to reduce our usage and impact in this regard.
Filming the spawning aggregation of Peleliu has been an annual event. In 2019 we teamed up with local marine researcher Dr. Jiro Sakaue. He told us how he has been studying the Sailfin Snapper aggregation for the last 10 years. Therefore it seemed appropriate to produce a short film on his work and the aggregation itself.
Expedition filming
2018 also saw 3 filming expeditions to remote locations in Micronesia. One to the South West Islands of Palau. The others to the remote Phoenix islands of Kiribati for both Woods Hole Oceanographic Institute and also Economist Films. The Phoenix Islands of Kiribati are home to what are termed "Super Corals". Over the space of 7 weeks I documented the research done by some of the worlds foremost coral scientists in some of the least explored regions of Micronesia. This is combined with similar research being done in Palau. As a result his helps promote the science of Palau's reefs to an international audience.
Scientific filming continued into autumn 2019. Underwater, aerial and editing services were employed. The film documents coral research undertaken in Palau by a team from Monaco.
We rounded off 2019 providing Fixing and underwater filming services to a team from Aljazeera.
Challenges of 2021
I would like to take this opportunity to thank you all for your continued support into 2021. We aim to venture to new horizons and Covid 19 will give us all great challenges. We must meet them if we are to survive. Recently we completed commissions producing educational material for Covid 19 related projects. It is hoped that Palau remains Covid free into the future. The world needs to learn from this lesson.
Thank you and stay safe into the future.