What is the best drone for video?
The best drone is the one you have with you. The one that you can fly safely and legally where you are. 
OK, you want slightly more than that…..
As of July 2022, with legislation in the UK and other parts of the world clamping down on what can be flown, the best drone for the vast majority of people, will be one that weighs less than 250 grams. 
This is all to do with the associated risk of drone crashes. A lighter drone will cause less damage.
There are a number of models on the shelves right now but from experience I would have to go with the DJI Mini 2 and it's successor the Mini 3. They are both sub 250 grams and are by far the least toy like of anything on the market in this category. I consider them to be the best bang for the buck, especially the Mini 2 now the prices are dropping with the new Mini 3 out. 
How much does a good drone cost?
What are the best places to get drone footage?
This one totally depends on what you want to film and whether or not you can fly a drone there. Personally, I like coastlines and landscapes. On a sunny day when the water is deep blue or early in the morning when a valley is misty and the shadows are long. It really is down to you as a creative and how you want to use a flying camera.….
Drones are a niche camera system. You can use them for affordable aerials or as a low level gimbal stabilised system.
A good app that helps you know if you can fly in a certain area is "Drone Assist". It has all the restricted areas, airports and other notifications to airmen updated in real time. It's my go to airspace app.
What is the best time of day to shoot drone footage?
The cameras on reasonably priced drones like those mentioned above and larger more capable ones like the Air 2S can handle a wide range of lighting conditions from low light to strong sunshine (if you use ND filters). Think about what lighting you want for your footage. Is a landscape better at dawn with long shadows and a golden glow? Does the water have a nicer colour with a polarising filter at midday? Start to think of a drone as a regular video camera and use the same filming and cinematography mindset as you would when filming on the ground. Remember also that landscapes can appear flat when viewed from above and so consider having the sun lower in the sky so that any relief in the land casts a shadow and adds depth and shape.
How to make drone footage look cinematic?
Use the 180 rule to ensure your shutter speed is twice that of your frame rate. When shooting at 25fps, set your camera to 1/50 sec. If shooting at 30fps, then set it to 1/60. This will allow there to be the right amount of motion blur between frames making the footage look natural. You will find that you need to use ND filters to drop your shutter speed down that low. There are plenty of after market 3rd party options available, consider also getting polarising filters to enhance clouds in the sky and water.
Cinematic drone footage is also about flying smoothly. No jerky movements. Everything must flow. This is down to practice and actually calming your drone. Many models now have a "cine mode" which is a lot slower and smoother. Check out this blog post on the best settings.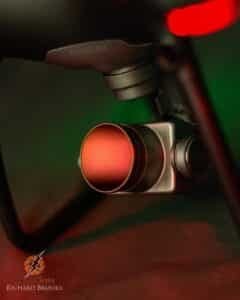 How much does it cost to produce a good drone video?
After the initial cost of a drone and registration, it is really just down to you to fly in areas that offer the best visuals. There is free editing software available, so the actual cost is minimal. An editing computer is of course an added expense and so too is travel to a site and time spent producing the video.  Our day rates start at £300 for flying and filming.
If the video is for a commercial purpose it is a legal requirement that you have drone specific insurance to cover for any accidents.
What is the best frame rate for drone video?
Most standard frame rates are good, 23.97, 24, 25, 29.97, 30. Just as long as you observe the 180 rule, you'll be fine. When you're filming fast action consider jumping up to 60 or even 120fps if you're looking for slomo. When you're shooting for a feature film the most common is 24fps. TV in Europe is 25fps. If in the U.S then 29.97 or 30fps is the standard.
Drone Troubleshooting Tips:
Why is my drone footage grainy?
Grainy footage usually comes from the ISO being set too high. Either you are shooting in very low light or you are using an ND filter too strong for the light conditions. Check to see what ISO you are on and what ND filter you're using. Low ISO produces less noise.
How to get smooth drone footage?
Smooth drone footage comes from smooth flying. Avoid quick adjustments and jerky moves. Use the "Cine mode" for your drone. Increase gimbal smoothness in the settings on the app for your drone. Read this article for more information.
How to stabilise drone footage?
A good quality drone as advocated above will come with a good quality gimbal mounted camera. This is the real revolution in drones. 3 axes of stabilisation ensure the camera remains level as the drone moves. If you find the horizon is not level, land the drone and recalibrate the gimbal on a level surface through the app. However if you are experiencing shaky footage check your props. If one is damaged it should be replaced immediately as it is probably causing vibrations due to not being balanced and also it may break and the drone will most likely crash.
Why is my drone footage choppy?
If the video feed to your controller is choppy it is quite likely due to transmission challenges. This is often caused by interference from trees of buildings. A drone should always be flown within visual line of sight so ensure you can see your drone and the issue should stop. If it continues, it might be the processor in the phone, tablet or device that is struggling to run too many apps simultaneously. Try running just the flight app.
If the footage is choppy on playback then you have an issue with the memory card. It is probably not fast enough to write the footage being produced by the camera. A memory card with a V30 rating is about the minimum required.
Do you need a license to sell drone footage?
In 2022, you do not need a specific license in the UK to sell drone footage. You however still need to register yourself and your drone with the Civil Aviation Authority. If you are flying a drone for commercial purposes then you do need drone specific insurance compliant with Regulation (EC) 785/2004.
It is also highly recommended that you gain a qualification for Drone Flying. The A2CofC is one which will take your knowledge to new heights and allow you to fly closer to buildings and people.
I would recommend contacting Infratec UK. I studied my courses there and can vouch for their thoroughness and knowledge. Check this link for more information.
Flying a drone is a responsibility, just like driving a car. Be sensible